Jack & Ripper
Price: 30

Attributes

On hit: Send enemy flying away.

When you hit the enemy agaisnt a wall, you deal extra damage.

-40% damage penalty.

30% slower firing speed
The Jack & Ripper, orignially
The Alternative Fists of Steel
are gloves made out pumpkin.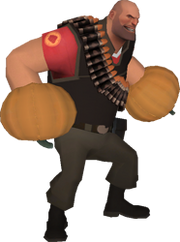 These gloves are so strong it knock backs the enemy, dealing extra damage if it knocks them into a wall. However, the hits deals less damage and are slower compared to standard Fists.
Damage and Function times
Edit
Damage and Function Times
Damage type
Melee
Damage
Base damage
100%
39
Critical
117
Mini-crit
45-61
Wall damage
TBA
Function Times
Attack interval
1.04 s
The Jack & Ripper are most useful in a 1vs1 battle, and mostly near walls. So it can be outdoors, but near a wall/death trap preferably.
A good combination with the jack and ripper is the elektroshock, so that you can throw the enemy out of the way and make a run for a healthpack (during the uber moment of course), or make a combo with the buffalo steak so that you can deal more damage, seeing has the damage is handicapped by the weapon.
This weapon originally had the fists of steel model that is currently used in the game for the same weapon, the fists of steel.
This weapon, for a time was called "The alternative Fists of Steel", until mecha took the halloween update, night of the living has a chance to change some of his weapons names and models, these include: The Alternative Fists of Steel (changed into "Jack and Ripper"), The Atomic Bat (changed into The Slugger's Face-Off), The Walkabout (just changed the model) and even introduced the knifemare.